To cool down a room, without a central HVAC system, you need an air conditioner … obviously.  The real question is, what is better … a portable AC or a window air conditioner.  Already this summer, more readers are looking into portable air conditioners rather than window air conditioners.  The real question is why?
Why you should get a Portable Unit
While window AC's may seem like the better option, they are not without their complications.  Here's why you may prefer a portable AC over a window AC:
1. You have a weird window situation.  Portable AC's don't even need a window to work.  As long as you have cold water and electricity you're set! Even if you do purchase an AC that you need a window to use, portable AC's work in almost every type of window.
For example; if the windows do not open (see below), are painted shut or the shape of the window simply cannot support the shape of an air conditioning unit. 
2. You don't need a MASSIVE AC. Through our research, we have found that portable ACs have a reputation of begin underpowered … BUT … we have also found out that consumers often buy an undersized portable air conditioning unit for their space.  Through this knowledge, we recommend oversizing the recommended air conditioning unit that fits your space or simply DOUBLING UP the number of units in your space; that way you're more likely to get the performance you need! Currently, Foreverity.com On milder humid days, you also have the benefit of running the portable as a non-cooling dehumidifier.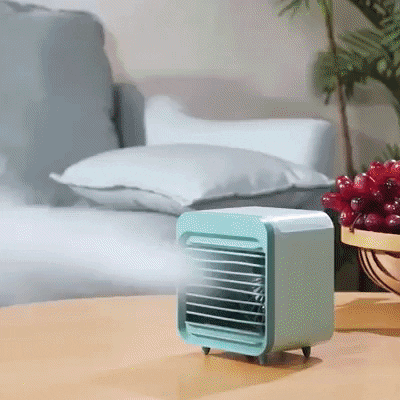 3. Your building has "rules" about window AC Units. 
Some windows present other obstacles.  There are a lot of buildings who don't allowed window AC's based on HOA or other building regulations.  A portable AC is your only other option at this point.  In some places, for example New York, there are rules that prevent you from blocking a fire escape with a window unit. 
4. You Actually want to use the windows!
Most people don't want to have their window blocked at all times.  Window units are hard to install in the first place, having to uninstall is every time you want to use your window is a pain.  Blocking out that much needed sunlight during the summer season, you don't want to be stuck in a dark cave just to have some cold air.  A portable AC gives you the option to easily remove the device from the window, or in other cases, not even have a need for a window!
5. You don't want to break the bank.
Window ACs can be costly.  Portable ACs are very affordable and are long lasting – not including the fact that it won't take up all of your extra space! A good example is the portable AC at www.foreverity.com where it is on sale for ONLY $59.99 + tax compared to a window AC at Walmart/Home Depot/Wayfair where you're looking at $300-600 + tax.
Whatever system you choose, make sure to maximize its performance and beat the summer heat at home!